Electrotherapy works by stimulating your body's own natural defenses against pain. Electrotherapy is used for relaxation of muscle spasms, prevention and retardation of disuse atrophy, increase of local blood circulation, muscle rehabilitation and re-education electrical muscle stimulation, maintaining and increasing range of motion, management of chronic and intractable pain, post-traumatic acute pain, post surgical acute pain, immediate post-surgical stimulation of muscles to prevent venous thrombosis, wound healing and drug delivery.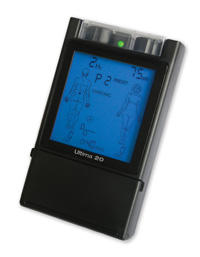 Electrotherapy can be conveniently and comfortably applied to hard to reach spots on the body with incredible accuracy. Conductive Garments are designed to be used in conjunction with a vast variety of Electro-Medical modalities both in the home and in a Physical Therapy setting.
The Ultima 20 TENS unit produces a gentle stimulation through the Energy Brace pads, and other conductive garments placed over the area of pain. This stimulus helps the body to produce natural pain relievers called endorphins.
The two lead TENS unit allows you to connect two garments at the same time and is recommended for treating Neuropathy, Neck Pain, Torticollis, Low Back Pain, Sciatica, Epicondylitis, Wrist Pain, Post Surgery Knee Pain, Ankle Sprains, Gonalgia (Knee Pain), Coxalgia (Hip Pain), Menses Pain, and Neuralgia.